Foolishly I decided to finally sew Miss K's Easter dress on Thursday and Friday (needing it for today, Saturday). I've had M6273 in my stash so I figured I would attempt it. Miss K picked View C (the pink and white one on the left).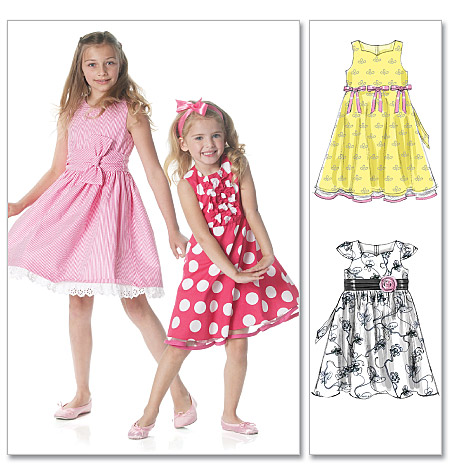 I traced the pattern, pre-washed the fabric, cut and marked it on Thursday and then sewed it all on Friday. All in a size 8 which Miss K wears in RTW. The dress is fully lined so it is like sewing 2 dresses. We drive a bit of a distance to visit relatives and the dress looked great after the long car ride!
There are a lot of pieces to this dress. The pattern calls for 2.25 yards in 45" wide for the dress and 1.5 yards in 45" wide for the lining. You will also need 2.25 yards of 2" flat eyelet trim, a 16" zipper and a hock and eye. I waited to the last minute to get any supplies - picking all but the lining up on Tuesday night (Hancock's).
Tutti Frutti (2.5 yards) $17.48
Eyelet (2.5 yards) $4.35
16" zipper $1.99
Total without lining: $25.13 ~ the lining I had already at home and I used exactly 1.5 yards and most of the Tutti Frutti and Eyelet. I would say the entire dress cost about $30; this could have been cheaper had I planned ahead and picked up the fabric and notions on sale.
I followed most of the directions up to the hemming. #19 and 20 I did not hem the ties as suggested because I didn't want the edges showing. I sewed them right sides together and turned them inside out - like a tube before attaching them. This worked but they are skinnier than they should be. I serged the bodice sides after step 22. I forgot to serge the lining and dress sides as well as the back of the dress before the zipper. Mostly because I was pressed for time; I went back and pinked what I could.
The zipper is really long and doesn't need to be. You could get away with only doing the zipper from the skirt gathering up to the neck; maybe a 9" one? or a 7" one?. It was a real pain to sew on all those gathers! I used elastic tape for the gathering itself but it was tough. It felt like I was making 3 feet of fabric fit into 12 inches. My machine hated attaching the skirt to the bodice with the 2 fabric layers, 2 lining layers, and elastic tape in the middle. I broke 2 needles and bent a lot of pins. I also was trying to be so careful to keep the bodice straight underneath but ended up sewing into it and had to rip it out and do it over.
When I got to the hemming I was plain burnt out. I didn't follow the directions really. I serged the bottom of the dress fabric, turned up an inch, pressed and sewed. I then turned the lining up 1 inch, turned it up again 1 inch into a double fold and sewed it. Finally I attached the eyelet by laying it on top of the very edge of the lining hem and sewing it on. Is this right? I don't know but it worked!
We didn't attach the bow because I liked the dress without. The "drape" on the front waistline didn't really want to drape at all.
Too bad it is so cold still here in Wisconsin so Miss K had to wear leggings and a long sleeve shirt underneath! This is a cute sleeveless dress but there is way too much work involved for me to do it over again. We plan on having Miss K wear it to 2 weddings this summer so at least we get some use out of it!
Overall she looks cute in it and the dress looks pretty- it was just more work than I wanted to deal with on our busy Thursday and Friday. Miss K got lots of compliments at Easter though so maybe it's great? We took the pictures as we were walking out the door this morning (15 minutes late). I wish the weather would turn nice so we can get outdoor pictures again!
I hope you have a good Easter.
~ Happy Sewing! ~ Kristin ~