Have I mentioned before how in love I am with almost everything Riley Blake Designs makes?
Simplicity 1867 It's so Easy ~ Pattern Stash Contest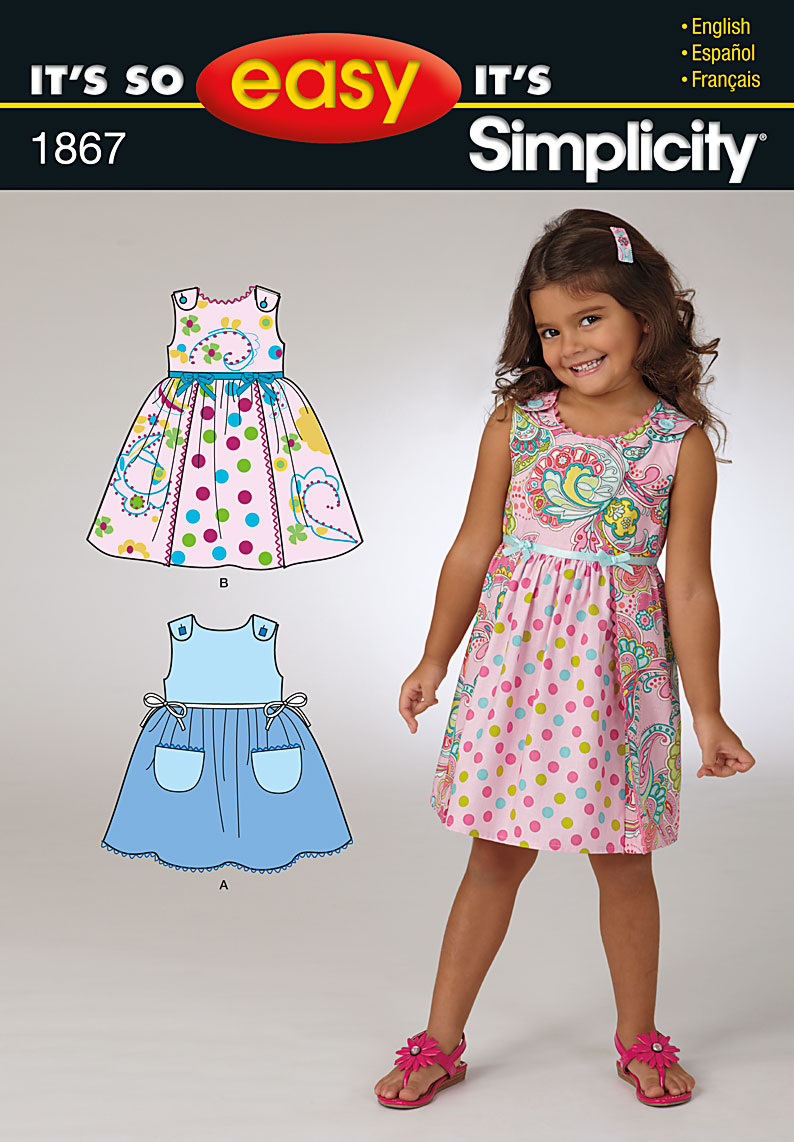 I assumed the dress would go together quick without issue and that the directions would be great as this is an "It's so easy" pattern. I wasn't let down! I chose View A but made it long like the dress, not the tunic. There are 4 pattern pieces 1, 2, 3 and 4 -however I substituted the long skirt #7 for #3 and cut 2 on the fold as #3 suggests. The dress is lined on the bodice. I just love the cute top buttons on the design. Miss K is still barely young enough for this but just edging out this style. (Makes me sad my baby is growing up). She is an 8 RTW so I sewed the 8.
front of the dress
There were no issues with the instructions, they were good. I didn't do the ribbon steps - K doesn't like them. Sew the bodice and it's lining; add the pockets to the skirt and gather, attach and do the buttons and hem. Nice and fast.
back of the dress
FABRIC: Pattern calls for 1 1/8 yard for the tunic skirt, however I used the longer skirt/dress so I used 1.5 yards. Bodice called for 7/8 yard and I had 1 yard with a bit leftover - I think you can get by with .75 yards. Fabric is Dress up days floral aqua and Dress up days bikes yellow, both from Fabric.com. I got the aqua print for $6.49/yard and the yellow puppies for $7.63/yard. Both were ordered just in February this year. Buttons are from my vintage bucket.
close up of bodice
Total for the dress minus thread: $17.94
Love these buttons!
and these puppies!
Conclusion: I love the dress - it is so sweet! I think I will only make it this one time though because Miss K is just edging out of this younger style. Plus it is unique enough that one is enough. I highly recommend it though!
one more view of the front
And YES! I took pics
outside
today! It is a luscious 63 degrees finally here in Wisconsin. I'm in heaven - except for the vicious spring allergies!
Finally got some pics of Miss K in her dress :-) The below pics were added 5/8/13
~ Happy Sewing! ~ Kristin ~