I wanted to sew this vintage jumper for Miss K for the last year and a half but she wouldn't fit in it then. I waited so patiently for her to grow just one size so it would fit. Every few months I would glance at the pattern and sigh. I picked up this fabric so long ago at Hancock and knew it would work perfect for this 70s inspired dress.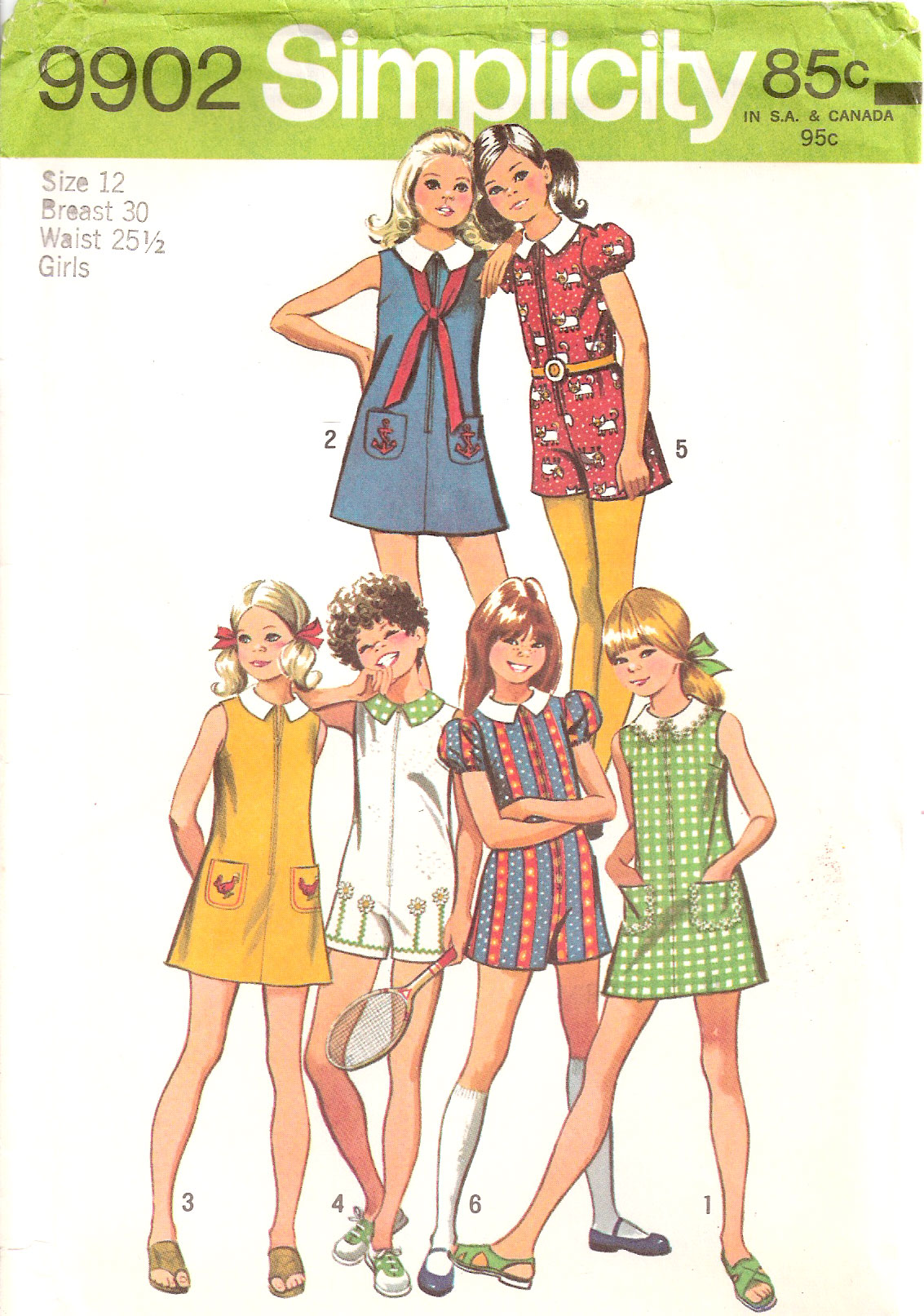 I love vintage patterns. Love them so much! Whether they are from the 40s, 50s, 60s, or 70s I dig them all. It is so cool to see the fashions of the times. It is even cooler to be able to sew
new
garments from old patterns! Time warp at its best.
Vintage patterns rock because they are so detailed and explain things so wonderfully in the instructions. They do not disappoint. I really haven't had a head scratching moment when sewing a vintage pattern... not like when I sew current ones.
Time to sew: 3 hours
After I took this picture I noticed how well I matched the from halves. How the heck did I do that? Awesome!
I love that this dress has darts, for a girl! There are front darts and back neck darts. I went with contrasting fabric for the collar and pockets. I stayed true to the pattern and followed all the instructions. I don't dig the neck and armhole facings. Facings suck honestly, but mostly because I don't like to hand sew - so slip stitching is not what I like to do. I used very lightweight stay tape to keep the suckers down. shh.
First time sewing a collar. Even though this one did not stand up. I was slightly confused it didn't match each end at first, until I realized it wasn't supposed to and that there is a gap there.
Miss K is shorter than most 10 year olds because she is only 7 - so the dress is longer on her than in the picture. This is great because K wants it longer and I enjoy it longer too.
Fabric: Picked up Sept 15, 2012 "Gypsy Song" Green Floral. on sale for $1.79 a yard!!! I used almost the whole 2 yards so the dress cost less than $5 after zipper and contrasting fabric.
I was only allowed to take pictures of the dress on Miss K if she got to be on the trampoline. Sounded like a good enough deal to me.
The fit is great
The back is so cute
I love this walking shot - it makes me think 70s for some weird reason
Those darn bugs even end up on the trampoline
~ Happy Sewing! ~ Kristin ~