I
love
vintage patterns. I love looking at them and being transported to the era. I have a bad habit of acquiring vintage patterns with the intention of using them, but never actually sewing from them.
I changed that bad habit today. Enter Vintage McCall's 6479 from 1976. This is one of my favorite patterns. It features cute pajamas for little girls - a full length nightgown, a tunic-like shirt and long pants, or a tunic-like shirt and FOOTED-pants!! or the view I chose, View D, a tunic-like shirt and bloomers :-)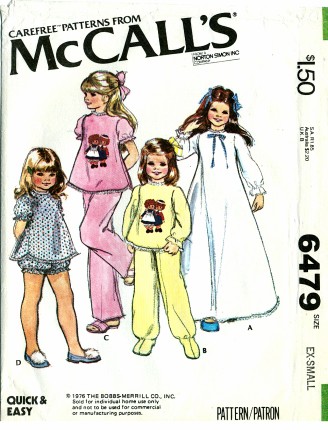 I picked this up early last year in a size Medium 6-8 and I hoped it would fit Miss K who is in a size 8. I traced the pieces first because I didn't want to cut into the pattern (I have an uncut one, completely new and unused).
1 piece for the bloomers, 5 pieces for the top, including the loop for the button. I hoped it would be a nice, relaxing and easy sew. The pieces are very detailed and I enjoyed all the markings.
I followed the directions for the top up to the sleeves. There is a facing for the front and I enjoyed how it was put together - you attach the facing, sewing the back slit line and cut it after you sew. It made sewing the top so easy. After attaching the facing, turning to the inside, and pressing, I top-stitched all around it. I then stitched in the ditch of the shoulder seams to catch the facing to the top (I didn't "catch-stitch" as the directions stated).
I attached the sleeves before sewing the sides of the top. I find it is much easier to attach the sleeves on a flat shirt. I didn't gather the sleeve tops either, I eased them in. The sleeves, top hem, and bloomers have narrow hems. I used soft fuzzy bias for the casing on the elastic. Miss K doesn't like things tight on her so I made the elastic pretty loose on the sleeves and bloomers. This works good on the sleeves, but the bloomers don't really "poof" like they are supposed to. Oh well. Comfort over style :-) I didn't follow any instructions after attaching the facing of the top because it was all self explanatory.
cute side view of the top
I loved sewing this vintage pattern. It was great at showing step-by-step instructions, the pieces are marked well, and it was easy to sew. I can't wait to try the footed pj's next!!
The "Mom, please don't take any more pictures of me" look
Fabric: For a size 6-8 the pattern calls for 1 5/8 yard of 44/45" wide. Notions include:1" ruffling in 2 1/8 yards, 1/4" elastic in 1 7/8 yards, 5/8" elastic in 7/8 yard, single fold bias tape in 2 3/4 yards, thread, and one 1/2" button.
I didn't use any ruffling, though it would have been cute. I used 2 yards of turtle flannel fabric that I purchased on 11/19/2011 for $6.94 total from Wal-Mart. I used some fuzzy bias tape I had leftover from
the Rainbow Brite costume
. I used tiny 1/8 inch elastic for everything. I had an adequate amount of fabric and if I was to sew this again I'd buy 2 yards again.
Conclusion: A+++. I love it; loved tracing it, sewing it, and seeing it on Miss K. It is a winner in my book!
~ Happy Sewing! ~ Kristin ~