Simplicity 3750 "6 made easy" - it sounds promising, right?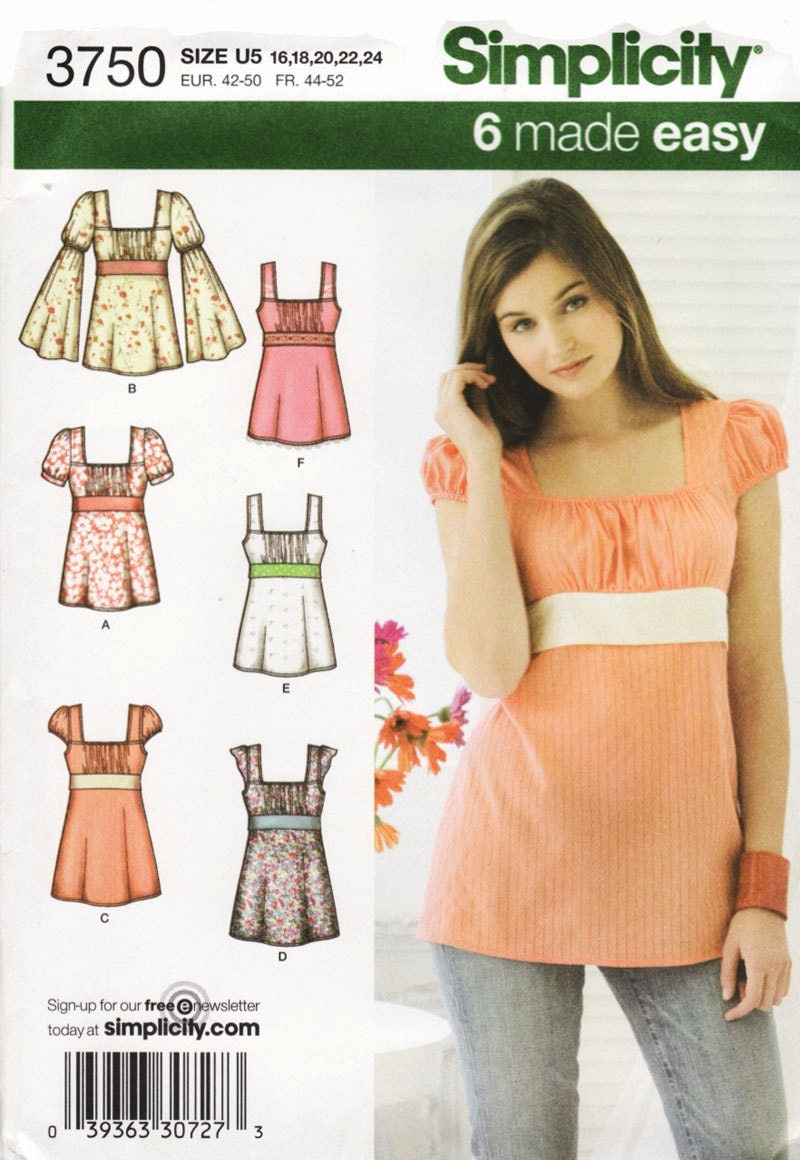 In RTW I am a size small on top, usually a 6-8. I chose to sew View E. The pattern measured me at a 12-14 on top and 18 at the hips. I wen't against their judgement and cut a 10 on top to waist, grading to a 12 from waist to hip. The top ended up a bit more snug than I like so if I sew it again I'll cut a straight 12. There are 6 pieces for this top.
Instructions: For the most part the instructions are what I expect for an "easy" pattern. In step 1, make sure to sew just a tad above the big dots as I did as the instructions stated and sewed through them; in the end my stitch lines were showing after I sewed the seam allowance here. Also, if I didn't already know the concept of bias attachment the instructions would have lost me. I skipped over reading them in steps 14-15 and 32-33. Also, the pattern called for 1/2" wide single fold bias tape. I used my bias tape maker for 1/2 inch and the bias was
tiny
, too tiny for my liking because it ends up being 1/4" after attaching. Next time I will use my 1" maker so the binding is a nice 1/2". The band ties are too short - I would cut them each 5-6 inches longer (pattern piece #5). The chest gathering part is a bit short in height. The band doesn't fully go under my chest area (by about 1- 1.5 inches). In the future I would make that area about 2 inches larger from bottom to top. To gather on the bottom I used my elastic tape instead of sewing two rows and such. It worked out great and turned out nice gathers. The top is gathered by elastic - you sew a casing.
Fabric: Pattern calls for 1 yard of 45" wide for main part and 7/8 yard for contrast (the belt and ties). I originally picked up this fabric 9/15/12 for a skirt but ended up not liking that pattern after first use. I purchased both from Hancocks; Turquoise cotton lawn at $3.95/yard - I had 2 yards and used about 1 1/4. Black royalty broadcloth, cotton sateen at $3.99/yard - I only had 3/4 a yard and managed to just squeak out the belt and ties. The fabric is almost see-through so I may have to wear a thin tank under it.
Total for the Tank, minus thread: $7.93
I think it is a cute top but I need it to be slightly bigger. I would say the pattern is just ok - I'm not crazy about it but I don't dislike it either.
~ Happy Sewing! ~ Kristin ~