I have been a busy bee the last 4 days! Shamefully, it took me those four days to make this tank but I love, Love, LOVE it!!!
Pattern Stash Contest ~ Vintage Simplicity 8072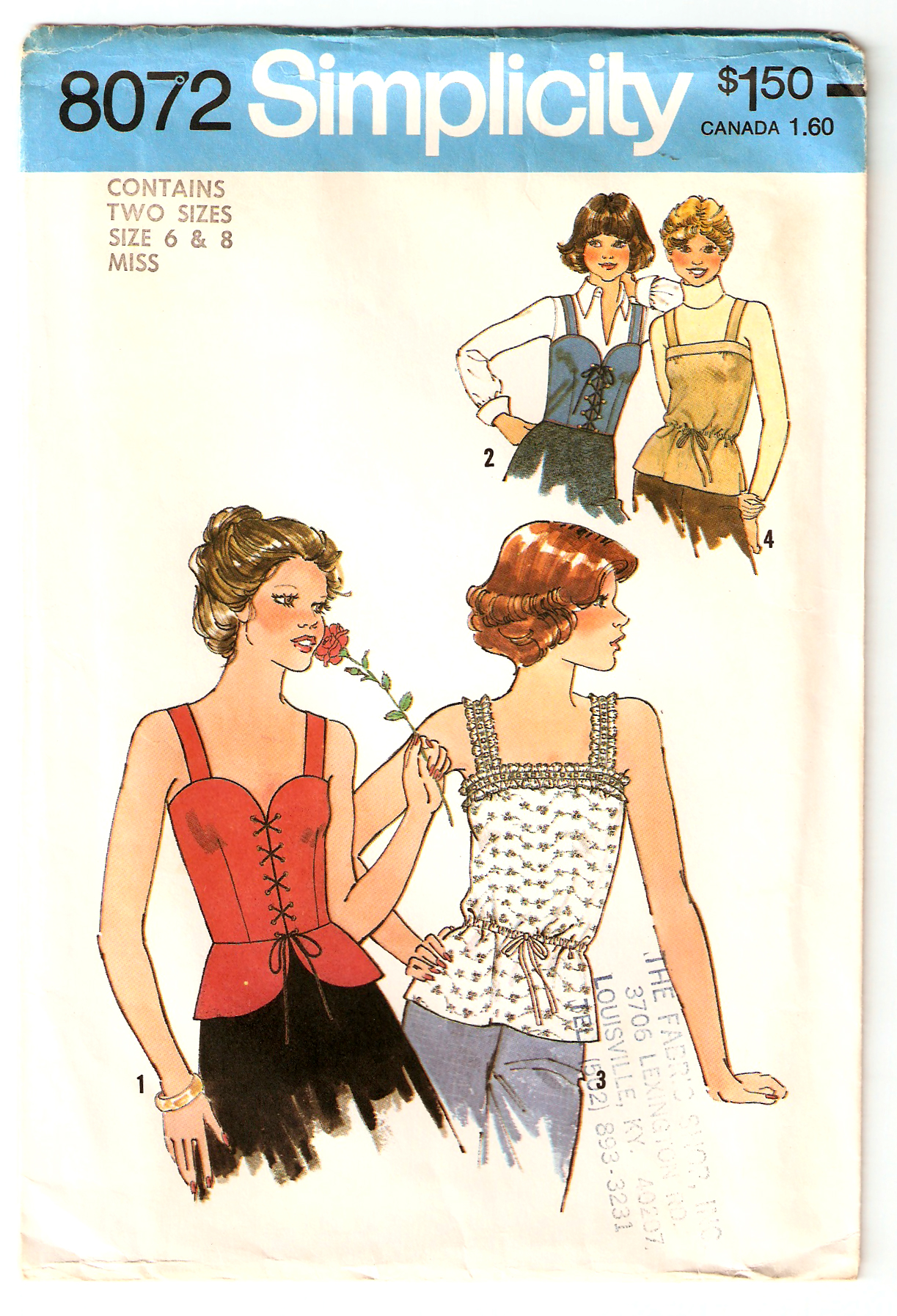 First I traced the pattern - The version I have is a size 12. In RTW I am a size small on top - however, in vintage years I'm about a size 10-12.... LOL. Anyway I wanted to make a muslin first because I had a certain saved fabric in mind for View 4 (the brown one on top right).
(finished tank - more pics below)
So Day 1 I traced the pattern pieces and haphazardly slapped a quick muslin together
MUSLIN
Day 2 I started sewing the top. Lucky for me, my walking foot arrived the same day. It was nutso surgery to put it on my machine until I realized what the thing wanted me to do. The walking foot worked
perfect
for my slippery rayon challis fabric. I sewed the gathers on the top and put together the backs and attached to the front. Then I went to the band and realized I forgot to cut the interfacing. End of day 2!
Day 3 I finished most of the sewing. Tragically I attached the band upside down at first and had to seam rip the
entire
top part. Then I put the band on inside out..... OMG and had to re-seam-rip the entire top part again. Frustration! The seam ripper is evil. Nonetheless I plugged on and got it right. I added the back buttons - my favorite part, and called it a day.
All night I kept thinking of the tank. I couldn't wait to get up today - albeit raining and gloomy. I finished the hem and straps. LOVE!
FABRIC: Ok, I've had this stuff a year and was afraid to part with it. The fabric is a beautiful soft and buttery rayon challis. Foolishly I only ordered 1 yard and they sold out quick. I waited for the perfect project to use this stuff. The official title "Rayon Challis Deco Turquoise/Orange" from Fabric.com. $2.99/yard. What was I thinking!!! I should have ordered 10 yards. ugh. kicking self.
The muslin was a cheap remnant of some nasty polyester stuff at Walmart for $0.60
The tie I picked up at Hobby Lobby for $1 - It is a satin navy.
Total Cost of Tank: $4.59
Besides Thread and Interfacing
inside view of front with casing (I made it with my bias tape maker! It was easy!)
My favorite part about the top - the back buttons!
Super sweet vintage buttons I found in my stash that surprisingly matched!
Front view
Instructions for pattern were great. When I took the time to read and do each step everything was clear. I had no issues. I did not slip stitch the back pieces where the buttons are; I sewed them for a little more support. I did not slip stitch the band facing, I stitched in the ditch on the outside of the top. Other than that everything was smooth.
I plan on making it again because I love it so much! The rayon challis is lovely for this design but I think it may be a little too flimsy for the ties pulling through. I might try a cotton next time - although the drape of the rayon is great here.
~ Happy Sewing! ~ Kristin ~