Mr. T loves Minecraft. I should say he is obsessed with it. For those who don't know it is a video game sort of a build/harvest/fight kind of role playing game. Merchandise for this game is
pricey
! T received a Minecraft hoodie from Santa last year to the tune of $70.
(my version of a creeper jacket)
So one day this summer I was flipping through my fall Ottobre's for ideas and T was next to me. He spotted a "sweat jacket" and asked if I could make it but Minecraft style. Not wanting to disappoint him I agreed. And it has taken me this long to fulfill this promise. First off I could not locate any black sweatshirt fleece for the life of me. Nor could I find lime green. If anyone knows where I can find some please, please let me know. I looked on Mood.com, Fabric.com, FabricMart, Fashion Fabric Club, at Hancocks, Joann's and Mill End Textiles. Finally I settled on using fleece.
Can I take a moment to say how much I despise sewing with fleece? It is thick, the fuzz drives me nuts, everything sticks to it, and is just no fun to sew. I even broke a needle today with it. Yeah, yeah you don't have to finish the edges and what not but I don't like it. Sadly I'm sure this coat will not wash well and that sucks. So I will re-make if and when I find the right colors or decide to use rit to dye some.
Back to the matter at hand. Ottobre 04/2007 #38 "Sweat jacket". I sewed the biggest size because I wanted it to fit T more than just this fall; however it is
huge
on him so I should not have gone that big. T usually wears a 146 or 152 on top (Size 10US) so I went with the 158cm.
Technically there are 11 pieces to this jacket because the sleeves break into 3 and the welt pocket into two. At first I was really confused on how to cut the welt pocket because the drawing has a little pencil on it. For anyone else confused you cut 2 of the whole piece and then fold the little top flap under (keep SA though for the next piece here) and cut 2 of the piece as top folded under.
Directions:
pretty good. Took me a long time, much cursing and head scratching to do the welt pockets on this coat. They just seemed so foreign to me in the pictures until I realized what they were showing me exactly.
What the directions don't say is that the collar and hem band are not as long as the coat fabric edges. You will need to quarter pin them on both and then stretch the collar and hem band when sewing to the coat. I also had issues with the zipper being too long for the hem band. Pattern stated 23 inches for this size. I had to go back and re-cut the hem band much wider, like 3 inches wider to = 6 inches when not folded in half! I think it looks ridiculous and long on T now but I couldn't shorten the separating zipper and I already had the top sewed in. My only options were to unpick the whole thing out and buy a smaller one or just do as I did and re-do the bottom band. I'm not happy with how long it is so I just may go back and hack the zipper out and re-do it anyway..... Poor T just wants his coat and is so happy with it.
The "creeper" applique was easy as pie. I have fusible web underneath and then just top-stitched. Here is a picture of a "real" creeper from the video game - looks spot on huh? (creeper is chasing Steve the human)
And this is what his $70 hoodie looks like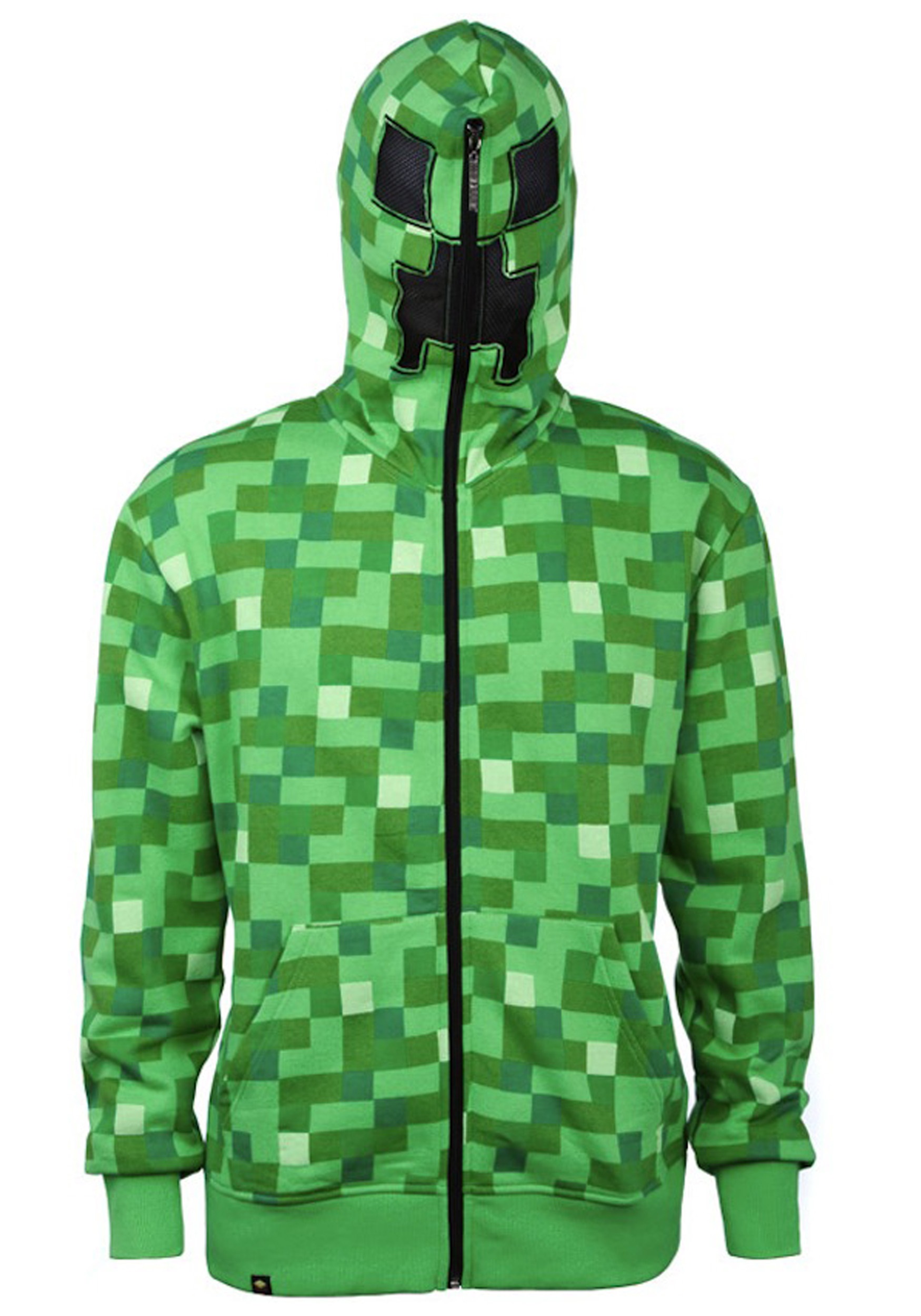 Fabric:
In the end I used 1 yard of each the green and the black fleece. I ordered both from FashionFabricsClub and shipping took forever because I guess the black went out of stock. $9.90 for fabric and $1.74 for the zipper = $11.64 total; much better than $70 even if I'm not happy with it.
Conclusion:
This is not a difficult sew. It really isn't that time consuming either. I just wish I had the fabric I wanted so it would have turned out better. I will use this pattern again in the future - perhaps a size smaller and a smaller zipper. Girl child is asking for one for her now too (she also plays the video game).
I think after looking at these pictures I just will go back and pick out that zipper, eliminate the bottom band, put in a much shorter zipper, and be happy it ends at the black. That looks like a good length.
~ Happy Sewing! ~ Kristin ~